"A range of compact articulating wheel loaders made in Italy, Cast Loaders are suitable for working on any surface without damaging it. Thanks to the simplicity of this machine being equipped with quick couplings and a universal mini plate, makes the job easy, practical and quick."
Cast Loaders MAXO 57 represents today the flagship model of our production. It is produced in two water-cooled versions of the 57HP diesel engine which differ in the speed system. A very powerful and robust machine, suitable for multiple applications, above all in agriculture and construction. All models can be supplied with heated cabin and air conditioning. The 11-function joystick is standard for all Cast Loaders MAXO 57 Models and is available in ergonomic version or 15-function as an option.
General
Manufacturer
Cast Loaders
Model
Cast Loaders MAXO 57
Year
2023
Price
Request a Quote
Category
Loaders
Subcategory
Cast Loaders
Engine
Kohler KDI
Hp
57
Speed mph
11,18
Hydrostatic transmission 4WD
Standard
Electic deff. Lock
Standard Anti-Skid
Water cooling
Standard
Double cylinder selflevelling
Standard
Hydraulic oil flow gal/min
21
LED working lights
Standard
Wheel motors
Single speed Poclain
Comfort cabin with air conditioning and heating
Optional
Joystick
11- function
12V power outlet front auxiliary electric outlet (165W)
Standard
Digital dashboard with acoustic warnings signals
Standard
Ergonomic seat
Standard
Windscreen with wiper
Optional
"Universal" coupling plate
Standard
Front metal hood
Standard
Rops/Fops protection
Standard
Telescopic boom
Standard
Tractor wheels
31×15.00-50
Weight lbs
5071
(The a.m. informations may change)
CAST LOADERS MAXO 57 QUOTE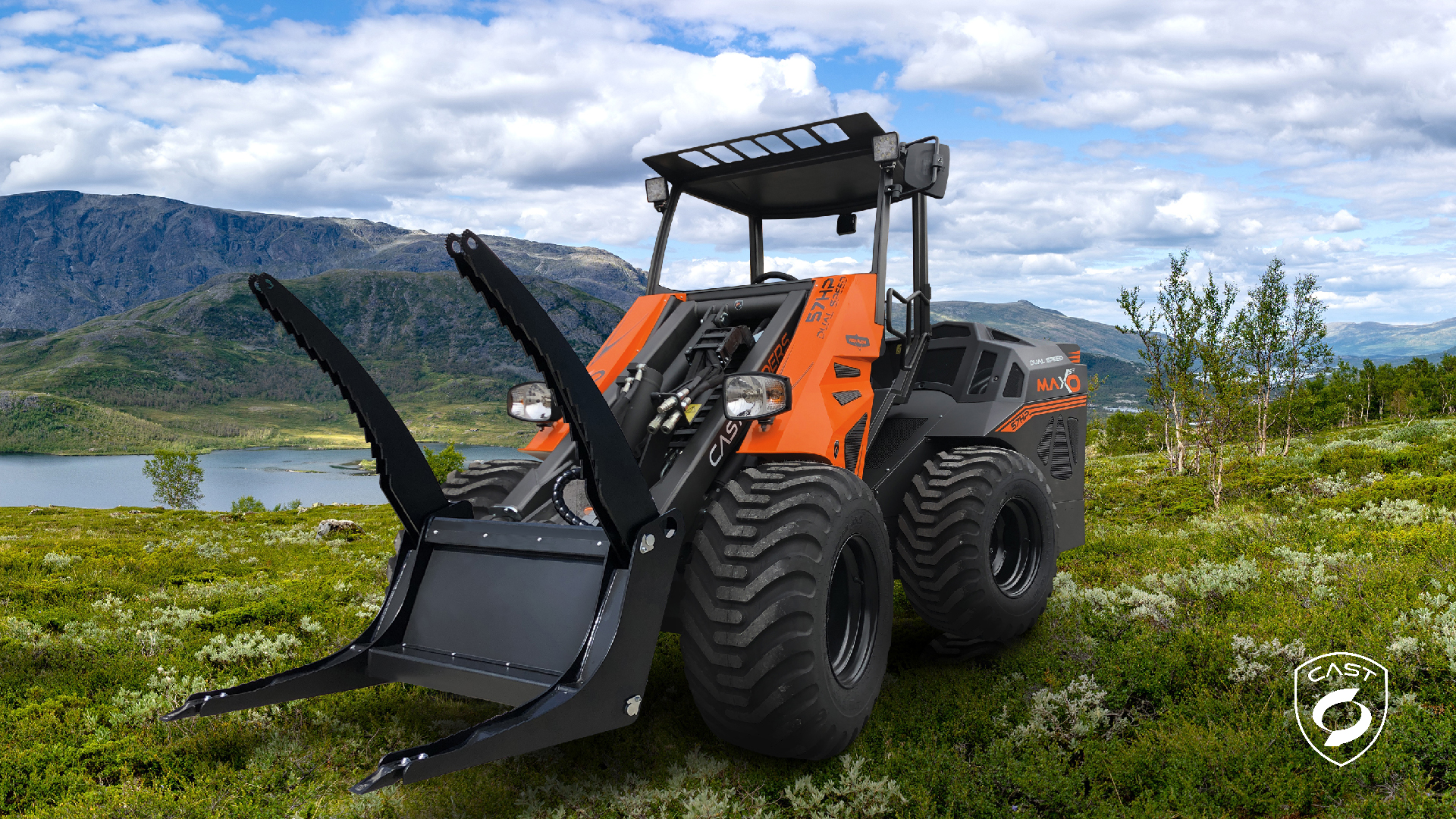 COMPACT LOADERS WITH 4WD TRACTION
 The 4WD traction, developed by the 4 wheel motors on all articulating wheel loaders, ensures stability and high performance on rough terrain and the powerful engines of the latest generations are able to provide all the power needed even for the most demanding jobs. Highly respectable hydraulic capacity and exceptional load capacity make the Cast Loaders series a benchmark in the USA articulating wheel loader industry. Watch our YouTube video on the full Cast Compact Loaders.
USA Dealer Network
 After buying our first Cast loaders from Cast Group in 2016, TNED immediately noticed there was a huge advantage of working with Cast Group as a team. TNED was invited to be involved with making decisions on product development specifically for designing the compact loaders line for our USA Customers. Having the ability to give feedback on the features as well as give input on machine design to better fit the needs of US clients vs European clients is what sets our product apart from many other compact loaders currently being sold in the USA.
Today TNED has 13 great Cast Loaders dealers across the Great USA and looks forward to adding more in the future. If you are interested in joining our dealer network, please visit our Become A Dealer page.
CAST GROUP
 Cast Group was founded by the will of the family Bugin who decided to develop ideas and projects with technicians who had nearly two decades experience in the production and marketing of Compact Loaders. Located in Mirano in the province of Venice, Cast Group has a motivated workforce, with an adequately production unit, equipped to meet growing markets.
"Our products are extremely reliable and built in compliance with the most strict safety standards. All the components used in the construction of our machines are of the highest quality. The machines we produce are carefully tested to guarantee excellent performance and nothing is left to chance. Our technical department constantly designs and updates the projects to guarantee a product in line with the Cast Group philosophy. The after-sales service is always impeccable and punctual to meet the needs of the customer."
NEED SERVICE FOR YOUR EQUIPMENT?

LOCATION
14490 Northdale Blvd
Rogers, MN 55374
WORKING HOURS
M-F: 8:00 AM - 5:00 PM